Mercurial: A Living Tapestry
A work in progress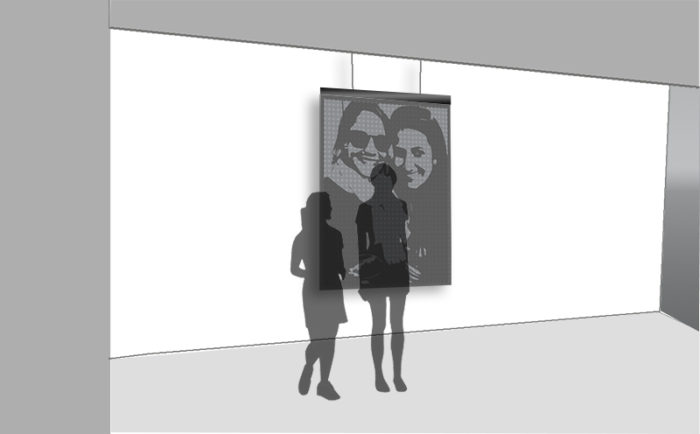 * A special thank you to MIT's Council for the Arts for awarding us a grant and supporting this project in 2014.
PROJECT DESCRIPTION
A mercurial is an ever-changing, whimsical mirror. Our tapestry draws on the spirit of this definition to create a dynamic, electronic textile to serve as simultaneously both tapestry and mirror.
Tapestries are traditional textiles. Their usage spans across time and culture; they have served as decoration, insulation, and storytelling devices. Mercurial is a hand-crafted interactive tapestry that breathes life into this traditional medium. Like classic tapestries, Mercurial will tell stories to its viewers. New technologies and small electronics will allow for our tapestry to dynamically reflect and respond to its surroundings in real time. As participants approach the work hung on the wall, their likeness will be mirrored onto its surface. The imagery will continue changing as the environment around it moves and shifts.
This large-scale interactive, electronic tapestry will ultimately consist of more than 1,200 LEDs sewn into a 5' x 6' piece of fabric. Using conductive thread as the circuitry, the LEDs form a low resolution screen on a flexible fabric surface. The interactivity is created with an Arduino, a Raspberry Pi, and a multitude of shift registers to form the unique, underlying structure.
An auxiliary camera will collect real time footage from the environment, and analog-to-digital image processing translates this imagery to the LEDs. Mercurial could serve as a unique platform for other image processing projects and/or more complex displays in the future. This interactive display is intended to be a whimsical and playful experience not only for those directly engaging but also passing by.
Creating successful prototypes in conjunction with beginning fabrication on the large tapestry, led us to understand the electrical workings of the 5' x 6' tapestry as a whole would be significantly more complex than we initially planed. Although our process has slowed a bit do to the challenges faced, we intend to continue work on piece. We anticipate to either complete the tapestry in the form initially proposed or to create smaller iterations that reflect the same concepts delineated in our project description (stated above).
A collaboration with Hanika Karkhanis